Medium:
Games
Fandom:
Ace Attorney
Spoilers:
Case 4 of Justice for All, vaguely.
Subject:
Adrian Andrews/Franziska von Karma
Title:
Helplessly, Lawlessly
Warnings/Rating:
FLUFF. OH GOD. Mild, cutesy sexings. PG-13.
ZIP?:
Yes, follow me!
(59MB)
Summary:
Their relationship as I see it working and progressing, to the tune of artists such as Imogen Heap, Vienna Teng, Uh Huh Her, Electrocute, Goldfrapp and more. Because for some reason these two just scream female-fronted electronica at me, what can I say? (I don't know how the cover art ended up green. Honestly.)
NOTES:
All music links will need changing from hxxp to http. Apologies for the inconvenience. I own nothing.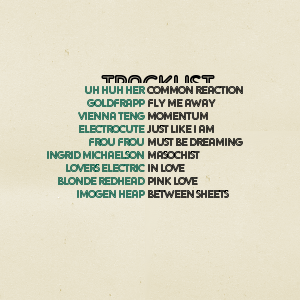 Uh Huh Her - Common Reaction
(Franziska: "the deal")
//Do you realize, you're caught in the middle with your alibi
You've been living in a dream
and you think "will I likely fall?"
Oh, still you lie, based on the fact
that you will always hide
Oh, you're covered in dust,
you're covered in dust//
Goldfrapp - Fly Me Away
(Franziska: "phone number")
//And I wanna be the one that you call
When you get down
No matter where you are in the world
I'll be around//
Vienna Teng - Momentum
(Adrian/Franziska: "moving forward")
//Would you help me rise up?
Touch my face and watch me try to breathe again
Would you let me do this?
Burn down the final wall
(Overcome me, baby)//
Electrocute - Just Like I Am
(Adrian/Franziska: "cards on the table")
//Put down your gun
Lay your head down next to mine
Look in my eyes
I've got something to tell you
I've nothing to hide
But there's some things that I've been through
That I think you should know//
Frou Frou - Must Be Dreaming
(Franziska: "foolishly falling")
//I must be dreaming or
We're onto something
I must be dreaming for
I don't fall in love lawlessly
I must be dreaming or
Pinch me to waking
So undeniably yours
As long as I'm losing it so completely//
Ingrid Michaelson - Masochist
(Adrian: "tumbling after")
//She says "you're a masochist for falling for me,
So roll up your sleeves"
And I think that I like her
'cause she tells me things I don't want to hear
Medicinal tongue in my ear//
Lovers Electric - In Love
(Adrian/Franziska: "maybe it's not so bad after all...")
//Taking on the world
Breathing in the old
But everything is new
I'm in love, I'm in love, I'm in love
Like it's the first time
I'm not in control//
Blonde Redhead - Pink Love
(Adrian/Franziska: "independence")
//I won't bind my strings to you
But build my world beside you
Watching you draw a line//
Imogen Heap - Between Sheets
(Adrian/Franziska: "together")
//You and me, between sheets
It just doesn't get better than this
The many windswept yellow Stickies of my mind
Or the molten emotional front line
I couldn't care less, I'm transfixed in this absolute bliss/
--
fin
--
And because I've gotten sick of wasting my manips, I made some icons. Nothing fancy (because I suck), but feel free to snag, skip rope with them, etc., if you're so inclined :D
Current Mood:

rushed
Current Music: Frou Frou - Must be dreaming