Medium:
Television
Fandom:
Skins
Subject:
Effy Stonem/Katie Fitch
Title:
Destroy Me This Way
Warnings/Rating:
Urk. PG-13?
ZIP?:
Yes, follow me!
(57.23MB)
Summary:
Songs for dancing, fucking, and fighting; synths and glitter and smoking by the river. Made as a gift for

prunesquallormd
- I hope this is suitable, bb ♥ The extent of my Skins knowledge comes from watching the DVDs over my sister's shoulder, and as such I know very little of fandom, so if I've committed any heinous fannish sins... um, well, many apologies :/ (Also, zomg this art. It hurts me, precious. Whhhhhy D:)
NOTES:
All music links will need changing from hxxp to http. Apologies for the inconvenience. I own nothing.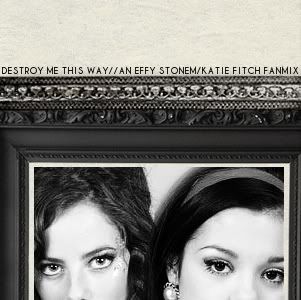 ( Read more... )
Current Music: Blair - Hello, Halo